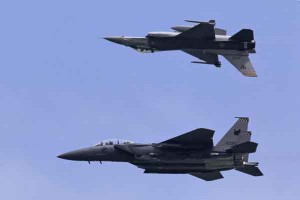 Just another Legacy done by Lee Kuan Yew.
When Lee Kuan Yew died Monday at age 91, the founding father of Singapore did not leave just his legacy as the prime minister whose authoritarian policies shaped a backwater British colony into the world's fourth-wealthiest nation. He also left Singaporeans with one of the most formidable armies in the world. The tiny island state of 5.4 million, with a land area far smaller than New York City's, has more fighter jets than Spain, Poland or Sweden. Its army has as many tanks as Italy, which is more than 400 times the size. Its navy boasts the only stealthy ships in the region.
The respected defense publication IHS Jane's called the Singapore Armed Forces "the best-equipped military in Southeast Asia."
Singapore spends more on weapons than anybody else near it. Its 2013 defense budget was $12 billion, according to an analysis published in East Asia Forum by Michael Raska, a research fellow at Singapore's Nanyang Technical University. That money has bought Singapore advanced American warplanes whose capabilities eclipse anything fielded by other states in the region. For example, it flies the latest version of the F-15, a fighter jet so lethal the U.S. has sold it only to four other nations: Israel, Japan, Saudi Arabia and South Korea.
Singapore's defense budget dwarfs that of neighboring Indonesia, which spent $7.9 billion that year, but has 250 million people. Malaysia, which lies on Singapore's other border, spends even less.
Those two neighbors are precisely the reason Lee Kuan Yew decided to spend so much on arms when the nation was established. But the threats facing Singapore in the future may come from further afield, including from China, experts said.
"China's 'threat' lies in its future ability to dominate the South China Sea, exclude the U.S. from the Southeast Asian strategic equation, and then impose its political will on the rest of the region, Singapore included," said Bernard Loo, associate professor of strategic studies at Nanyang Technical, in an email to IBTimes. But that is not why Singapore is armed so heavily, he added: Malaysia and Indonesia are the real reason.
When Singapore broke off in 1965 from the Federation of Malaya, Lee wanted the new nation to be able to defend itself from its northern neighbor, which later became Malaysia and with which it had until recently a contentious relationship.
"It had to do with Singapore's utter dependence on Malaysia for sources of potable water," Loo said. "Malaysian leaders in the past were not averse to threatening to cut off the water supplies to Singapore, if the latter did anything inimicable to Malaysia's interests."
As for Indonesia, it's one of the world's largest and most populous countries, and Lee feared its sheer size and aggressive "policy of confrontation" in the 1960s. That policy has long ended, but it "continues to worry Singapore's leaders," Loo said.
"If the [Singapore Armed Forces] needed to go to war to protect Singapore, the … cause of war would have been the severance of water supplies," Loo wrote in a blog post citing Lee's memories.
But Singapore is moving toward self-sufficiency in water, and relations with Malaysia and Indonesia are now warm. "Water, in other words, is no longer the casus belli of the hypothetical war that the SAF might need to fight," Loo wrote.
The strategic focus of the Singapore Armed Forces is shifting, and the reason is found in simple economics: Singapore is a trade hub whose livelihood depends on shipping, and shipping lanes need to be protected from any disruption. The island state has the world's second-busiest container port, and about one-quarter of world trade passes through the Straits of Malacca, which it shares with Indonesia.
Singapore now needs to "maintain its economic stature, which is dependent on exports, unimpeded trade and communications routes, and reliable external sources for essential supplies such as water, oil, and foodstuffs," Paul Burton, director for Asia-Pacific at the IHS Aerospace Defence and Security consultancy, told CNBC. "The protection of sea lanes and offshore territory is consequently a concern."
That's why Singapore maintains an air force capable of projecting power far away from the island. Unique among Southeast Asian nations, it has a fleet of air-to-air tankers bought from the U.S., which can extend the range of Singaporean F-15s and F-16s so they can strike thousands of miles away. To do so, they have precision weapons from the U.S. and Israel, including bombs guided by laser and GPS and anti-ship missiles that can hit targets more than 60 miles (100 km) away.
Singapore policymakers do not mention China when discussing their military posture, nor is the government involved in any of the maritime disputes pitting the biggest Asian power against neighbors like Japan, Vietnam and the Philippines. But history shows that Singapore's tiny size means it cannot wait for any enemy to get close. That lesson came from the island's capture by Japan during World War II, a traumatic event in Singaporean memory.
"The last thing the Singaporeans want is to fight last-ditch battles on Singaporean soil. A lot of this goes back to the fall of Singapore in 1942," Richard Bitzinger, a senior fellow at Nanyang Technical, told Flight Global magazine."They never want to have this happen again. They will take the war to the enemy."