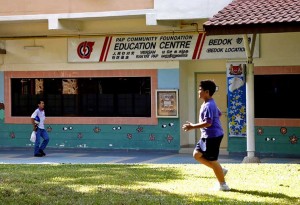 Raise raise and raise, we Singaporean just love to see that word again.
PAP Community Foundation (PCF), the largest pre-school operator here, is set to raise fees for most of its kindergarten and child care centres from next year.
Explaining that fee increases are needed from time to time to maintain the quality of its programmes, PCF could not say which or how many of its 153 childcare centres and 215 kindergartens will be affected, but explained that current fees and revised fees would "vary across different kindergartens, childcare and infant care centres".
"Due to our large network of centres, it is also difficult to pinpoint a specified amount of increase due to the variation mentioned," a spokesperson said. "The increase will affect generally all cohort of students."
The hike was approved by the authorities in May. Several centres have already informed parents of the new fees, while the PCF will continue to reach out to parents over the rest of the month.
Stressing that PCF is committed to keeping fees affordable, the anchor operator also said fee increases are done in "tandem with increases in our investments in curriculum and learning environment as well as the employment of qualified teachers who continue to receive on-going profession development".
"Such increases are also needed to defray rising operational costs, most notably in the salary costs of preschool staff," the spokesperson added.
The PCF could not provide a range for how much fees would increase by, but a letter to parents from PCF Sparkletots Preschool @ Nanyang Blk 922 on revised fees — which was has been circulating online since last week — showed that from next year, K2 fees will be S$617.90 a month for Singapore citizens. Permanent residents (PRs) will pay S$765 and foreigners pay S$926.80.
For infant care, fees would be S$1235.80 a month for citizens, S$1,530.10 for PRs and S$1,853.70 for foreigners.
In September last year, it was reported that fees were raised for some PCF centres, but no organisation-wide hike was implemented.
The spokesperson, pointing out that the revised fees are below the fee cap set by the Early Childhood Development Agency (ECDA), also assured that even after the increase, the "vast majority" of PCF centres will continue to offer fees at lower than the median fees of other anchor operators and preschool centres. The fee cap for anchor operators is S$720 a month for full-day childcare.