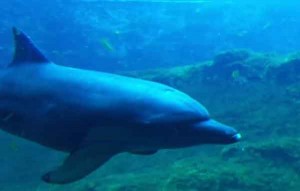 Again? Is it really they are not suppose to be here? Maybe RWS should really spend more time to look into this.
A dolphin from Resorts World Sentosa died on Sunday, according to a statement on the Marine Life Park blog posted a day after.
"We are conducting tests to confirm the exact cause of death. Prior medical tests indicated that she was healthy. We are closely monitoring all our animals, and as always, no effort or resources will be spared in ensuring the health and well-being of our dolphins at Dolphin Island," it said.
MLP added that they are "deeply saddened" by the lost.
No further details were given on the bottlenose dolphin, which was one of the 24 dolphins available at RWS.
The dolphins are available for public viewing at Singapore's S.E.A Aquarium and Adventure Cove Waterpark.
MLP will provide further details on the blog when available.
The news has sparked calls for other dolphins to be released.
A Facebook post by Singapore's Animal Concerns Research and Education Society (ACRES) said, "When is enough enough? Four have already died. Help speak up for the remaining 23 wild-caught dolphins. Urge Resorts World to work with ACRES toward rehabilitating and releasing them back into the vast open oceans."
In 2012, a 10-year-old dolphin Wen Wen died on its way to Singapore. A year earlier, two dolphins captured from the waters of Solomon Islands for RWS also died.
An ongoing petition to free the bottlenose dolphins at RWS has garnered over 100,000 signatures.
Bottlenose dolphins are well-known as "intelligent" and "charismatic", according to National Geographic. They can swim as fast as 30 km per hour and their average life span during captivity ranges between 45 to 50 years.