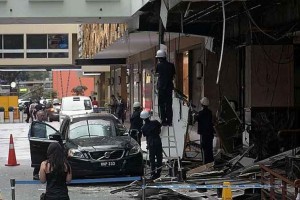 The heavy rainfall of the last two weeks was likely to blame for a blackout at a mall and the collapse of a false ceiling at a hotel, both in the Orchard Road area.
In fact, the first two weeks of this month have been the wettest in six years, with the highest rainfall of 327mm recorded around the Orchard Road area. According to the Meteorological Service Singapore, the total rainfall recorded across the island between Dec 1 and Dec 13 ranged from 104mm to 327mm.
In comparison, the highest rainfall recorded over the same period from 2010 to last year was from 137mm to 314.8mm.
Last Saturday afternoon, Orchard Central was plunged into darkness after water seepage from a heavy downpour caused a blackout.
A day later, a false ceiling collapsed at a driveway at Hilton Singapore. Four people were taken to hospital.
Experts told The Straits Times that the high volume of rain likely caused water to seep through to the false ceiling, which is not designed to cope with the extra weight.
Mr Chong Kee Sen, president of The Institution of Engineers, Singapore, said main building structures can hold out against the weight of collected rainwater. But ceilings are made of lightweight materials and may not be able to withstand any excessive pressure.
"Water and moisture could also soften the ceiling board materials or could also cause corrosion to metal parts, but that takes a longer period of exposure," he said.
Singapore Contractors Association president Kenneth Loo said false ceilings are architectural elements, not structural ones, and are not designed to carry weight.
"So when you have the sudden impact of a load, it won't be able to take it."
One such possible load is rainwater that leaks in and collects on the false ceiling, he added.
He compared the Hilton incident to what happened at shopping mall Jem two years ago, when a leaking pipe caused the ceiling to collapse under the weight of the water.
The incidents at Orchard Central and Hilton Singapore came a few days after a slab of concrete fell from a pedestrian bridge outside Orchard Plaza last Wednesday.
The Building and Construction Authority told The Straits Times yesterday that it has appointed professional engineers to conduct a detailed probe into that case and the incident at Hilton Singapore. It added that the incidents did not affect the structural safety of the overhead bridge and hotel, respectively.
Mr Loo said the best way to prevent such incidents is not to design architectural elements that can bear weight, but to "address the root cause" – that is, leaks.
Owners should regularly inspect their buildings for possible cracks where leaks could occur, he said.
Mr Chong said buildings could be designed such that water flows from the roof to ground-level storm drains as fast as possible, to minimise water build-up on the roof.