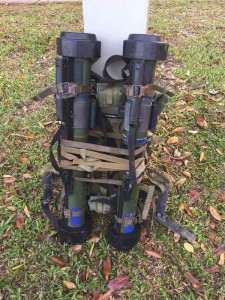 Two light anti-tank dummy weapons were found by a member of the public near the junction of Sungei Tengah and Old Chua Chu Kang Road on Thursday (Oct 16).
The dummy weapons are "meant only for training, and are inert", according to the Singapore Armed Forces (SAF) in a Facebook post. It added that the unit responsible has recovered both items. Channel NewsAsia understands that the weapons are the MATADOR (Man-portable Anti-Tank, Anti-DOoR).
"The SAF takes a serious view of this incident and investigations are currently underway," SAF wrote.
Police confirmed that they were alerted to the incident at 7:32am. Upon officers' arrival on the scene, it was established that no further police assistance was required. Channel NewsAsia understands that the police are not investigating the case.
According to MINDEF, the MATADOR was developed jointly by the SAF and the Defence Science and Technology Agency (DSTA), in collaboration with Dynamit Nobel Defence (DND). It is a 90mm calibre man-portable disposable anti-armour weapon system and weighs 8.9kg without the projectile. With a projectile, it weighs about 11.5kg.
Army camps in the vicinity include Sungei Gedong Camp, which houses HQ (Headquarters) Armour, Tengah Air Base and Keat Hong Camp, another Armour base. The MATADORs are commonly used by Armour units in their field training.