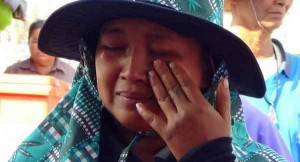 We think there is a misunderstanding somewhere.
Rural communities all across Southeast Asia have banded together today to protest. This after Member of Parliament for Jurong GRC Ang Wei Neng proposed a plan to send Singaporean students on mandatory overseas community service stints in rural Southeast Asia.
Speaking in Parliament on May 29, 2014, Ang said such field trips would "help our youths appreciate Singapore's success better" and "inculcate the value of service to others".
In response to this, members of rural communities from five Southeast Asian nations have organised to protest against this plan. They say the influx of "foreign talent" from Singapore to less developed parts of Southeast Asia will rob them of their dignity.
"These young foreigners from Singapore are going to come here and build our houses and teach English to us? Then what about our local builders and English teachers?", said one villager, Long Than Hon-Phai during the protests.
Rallying under the slogan "Villages for Villagers", one of the protest organisers, Gilberto Gohmez from the Philippines, was quick to add that the protests were not meant to be xenophobic.
Gohmez said: "We don't hate Singaporeans, in fact, we love Singapore, but we just hate it when Singaporean foreign talents come over here and steal our jobs."
Protesters have also applied to hold satellite protests in Singapore at the Ngee Ann City Civic Plaza and Hong Lim Park, although it is unclear whether the permit applications will be approved.