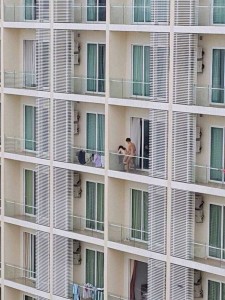 A man and a woman was spotted having sex in broad daylight at the balcony of an apartment unit in Bangsar South.
Apparently, their act was recorded for about 30 minutes by a tenant from another apartment and was sent to the Guang Ming Daily.
When contacted, MCA Public Service and Complaints Department chief Datuk Seri Michael Chong slammed the couple and said they should show some decency. Datuk Seri Michael Chong also said to the tenant to file a complaint to the police or the apartment management to take action against them.
Sexual activities in public places, even on the balcony of one's home, are illegal if visible to the general public, says former Bar Council president Yeo Yang Poh.
The lawyer was commenting on a headline grabbing video of an unidentified couple having sex on their balcony at an apartment unit in Bangsar South here.
According to Yeo, "It is against the law to behave indecently in public sphere and these behaviour include lewd and sexual acts as well as nudity.
"It is alright to make love in your own room, but in places where the public can see what you and your partner are doing, then it is no longer legal as it will result in public disturbances besides being morally wrong."
He clarified that public places were defined as any place that was visible to the public.
"Even the balcony of a private property, despite it being a privately owned place, cannot be used for any indecent act."
When asked about the legal standing of the person who had filmed the couple's sexual act, Yeo said the person would not be considered to have committed a crime as the recording could be used an evidence against the lovebirds.
"But if you film and distribute it to others, then that is a violation of the law, a crime made punishable under the Communications and Multimedia Act."
The couple were also reported to have committed oral sex, which is an offence under the Malaysian Penal Code 377, also known as the "unnatural sex" law.