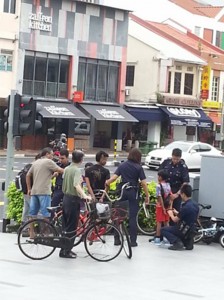 Ok, we know that theft is wrong, but handcuffing boys age 9 to 12 in public? We felt this is wrong. They can just bring them up to the vehicle. Maybe there is another side of the story, we do not know, but with just this photo, we really felt that they should not be cuffed.
Three boys, believed to be between nine and 12 years old, were arrested for theft at a building along East Coast Road on Saturday morning (Dec 27).
A photo taken by Ms Shan Ang, which she posted on Facebook, showed a young boy and an older-looking boy being handcuffed by police officers near the traffic junction next to 112 Katong. In the post, Ms Ang, a property agent and a volunteer for children's development needs, said: "I just saw three very young kids under handcuffs. Pains my heart that the police (would) handcuff young kids."
The boys had allegedly stolen some shoes. They were then driven to the police station in a police car. The photograph has gone viral online, with many expressing shock and asking if the boys needed to be handcuffed.
"We don't see such things happening very often in Singapore, so when I heard and saw this photo, naturally it was quite shocking," said Amolat Singh, a criminal lawyer from Amolat and Partners. "By-and-large, we only see adult people being handcuffed but having said that, of course the police officers on the ground would have had to make a judgement call when to use the handcuffs or not.
"Generally speaking, unless a person is violent or there is a flight risk, the police normally do not slap on the handcuffs, but I'm a bit concerned because for people of this age, the psychological effect of being handcuffed in public can be quite devastating."
Mr Amolat, who has more than 20 years of experience, also related how juveniles should be dealt with under the law. "As far as the law is concerned when dealing with young offenders or juveniles like these, the law goes to great lengths to make sure that they are not treated like adults," he said.
"For instance, there is a separate court called the Juvenile Court to deal with them. They are not referred to as accused persons, they are referred to as offenders. Finally when the Court decides to even incarcerate them, they are sent to a boys' home. They are not sent to the normal adult prison."
In response to media queries, police said: "The subjects were handcuffed for the safety of them and others as they had attempted to escape before police's arrival."
Ms Ang told Channel NewsAsia she felt "shocked" to see the young boys being handcuffed. "Then again, it's up to police. I just feel painful, that's all. I trust police," she said.
Police investigations are ongoing.