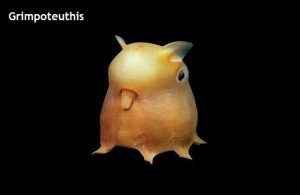 Grimpoteuthis, Dumbo octopuses, live in the deep open ocean down to depths of at least 13,100 feet (4000 m) and perhaps much deeper, making this group the deepest living of all known octopuses. Life at these extreme depths requires the ability to live in very cold water and in the complete absence of sunlight. Dumbo octopuses are naturally rare, and the deep sea is enormous, so these species have specialized behaviours to increase the likelihood that they can successfully reproduce anytime that they find a mate.
Females apparently always carry eggs in different stages of development, and they are able to store sperm for long periods of time after mating with a male. Using these advantages, female dumbo octopuses can transfer sperm to their most developed eggs any time the environmental conditions are right for reproducing. Though they spend much of their lives suspended above the seafloor, dumbo octopuses lay their eggs on the bottom, attached to rocks or other hard surfaces.
Dumbo octopuses move by slowly flapping their ear-like fins, and they use their arms to steer. They are foraging predators and eat pelagic invertebrates that swim above the sea floor. As there are few large predators in the deep sea, dumbo octopuses' primary predators are diving fishes and marine mammals, including tunas, sharks, and dolphins. Due to their preference for extreme depths, they are only very rarely captured in fishing nets and are probably not threatened by human activities.