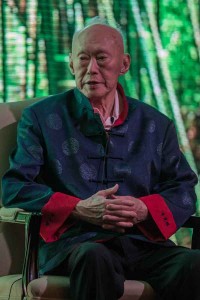 Singapore's first prime minister, Lee Kuan Yew, warned against the risks in helping to develop an economic zone in neighbouring Malaysia, adding that the wealthy city-state he helped build might not be around in 100 years if it did not pick good leaders.
"I am absolutely sure that if Singapore gets a dumb government, we are done for," Lee, who turns 90 next month, wrote in One Man's View of the World, a book launched today. Losing none of the candour that made him one of Asia's most influential leaders, Lee had sharp words for some of Singapore's neighbours, in particular Malaysia, from which Singapore split in 1965, amid ethnic tension between its Malay majority and the Chinese minority.
Lee also spoke about risks involved in the Iskandar economic zone that Malaysia is developing just north of Singapore, which has attracted large investments from the city-state. Singapore Prime Minister Lee Hsien Loong, Lee's eldest son, and Malaysian Prime Minister Najib Razak have both promoted Iskandar, which many believe can complement Singapore, just as Shenzhen has helped Hong Kong overcome its space constraints.
"This is an economic field of co-operation in which, you must remember, we are putting investments on Malaysian soil," Lee said. "And at the stroke of a pen they can take it over." Lee appeared alert but frail at the launch event, requiring assistance to stand and walk about. He did not take questions, but said his 400-page book recounted "90 years of various experiences" and included hard facts and hard truths.
Lee Kuan Yew is widely credited with building Singapore into one of the world's wealthiest nations with a strong, pervasive role for the state and little patience for dissent. His influence extended beyond the tiny population of 5.3 million, as the city-state's economic success served as a model for many developing countries, including China under Deng Xiaoping, and he still garners respect from global leaders.
In his book, Lee says he met Chinese President Xi Jinping in November 2007 in the communist leader's first meeting with a foreign leader after he was promoted to the Politburo Standing Committee. "He struck me as a man of great breadth," said Lee, praising the way Xi endured various trials and tribulations and worked his way up through the Communist party.
"I would put him in the Nelson Mandela class of persons." Although China is becoming increasingly powerful, Lee said the United States' economic prowess was unlikely to wane, due to its innovation skills that lead to gadgets such as the iPad. But it was worrying that President Barrack Obama had recently lost several of his aides, Lee added. "That such experienced advisers have left him is not a good sign."
Lee stepped down as prime minister in 1990, handing power to Goh Chok Tong, but remaining influential as senior minister in Goh's cabinet and subsequently as "minister mentor" when Lee Hsien Loong became prime minister in 2004. The elder Lee resigned from his cabinet position in 2011 after his long-ruling People's Action Party (PAP) stumbled to its worst electoral showing since independence in 1965.
On his fears for the future of Singapore, Lee, who once famously vowed to rise from his grave if something went wrong with the country, now seems ready to let fate run its course. "I have done my job," he said. "I found a successor and handed over to another generation… I cannot live forever as a young, vigorous 40- or 50-year-old."