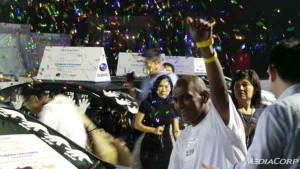 49-year-old Mr G Jaishanker was crowned the winner of the 13th Subaru Challenge. The Singaporean outlasted the field of 400 contestants, keeping his hand on a car, with a time of 82 hours and 16 minutes and 58 seconds.
The SATS catering officer walks away with a Subaru Forester worth S$85,000, excluding COE. This is his third time participating. In 2012, he took second prize and last year, he ended up fourth. "Finally, he made his peace," said Mr Jaishanker's wife, after he picked up the prize.
Just past midnight on Wednesday (Nov 12), four people broke the previous record of 81 hours and 32 minutes by Singaporean George Lee, who was the 2008 winner. At 12:45am, runner-up Analiza Mokhtar dropped out, making Mr Jaishanker the winner. The 36-year-old Singaporean had taken part eight times.
Last year's champion, Yusman Wright from Singapore, won with a time of 75 hours and one minute.
Mr Jaishanker said he had told his wife a year ago that he would win. "I told myself that I can go for the record," he said. "I told myself – mentally, I am determined to do it," he said, adding that the first few hours were crucial. "If you tell yourself 'yes' in the first few hours, it's a 'yes'. Every break I would focus on the next break. That's how I passed the time."
On his message to future contestants, Mr Jaishanker said: "Nothing is impossible. Everything is possible." Despite staying awake for more than four days, he told the media he would go for supper before heading home with his family.
Malaysian Tan Hong Sheng walked away as this year's Asian winner as the final standing regional contestant with a time of 81 hours and 58 minutes. The 34-year-old won S$5,000 cash.
This year's endurance competition saw 310 participants from Singapore and 90 from around the region – including Cambodia, China, Hong Kong, Indonesia, Malaysia, Philippines, Taiwan, Thailand and Vietnam.
The challenge kicked off on Saturday (Nov 8) at Ngee Ann City's Civic Plaza from 1pm. While participants still got a five-minute break every six hours, this year, the public was roped in to show their support by playing an online game to win incentives such as extra five-minute breaks for the participant of their choice. Contestants could also pick their preferred palm positions this year.