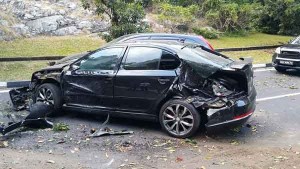 Looks like a war zone. Seem like the eight-wheel mobile crane lost control.
Mr Johnson was just chatting with a friend who was in the passenger seat while driving along Kranji Expressway (KJE) on Tuesday evening (Mar 3) when a crane crashed into his car, shattering its rear window.
The scene around him unfolded "just like a movie", said Mr Johnson, 34.
"We were just having a conversation, then we stopped talking because I heard sounds. Then I was thinking – where is the sound coming from? Is it from the construction site?" he recalled.
Before he knew it, Mr Johnson saw a wheel fly past while an eight-wheel mobile crane smashed into his Skoda VRS.
"When it happened, we were just too shocked. I was just waiting – is there anything else coming? Like a broken wheel coming down?" he said. "I was pushed to the side. The force was tremendous; it carried on smashing another car. After the accident happened, the truck basically uprooted a tree. Everybody was coming out (of their cars), it was like a warzone."
"Immediately we were checking if anyone was injured. Of course most of us would have minor injuries, cuts, things like that," Mr Johnson added.
The accident, which involved seven cars, three lorries, a truck and a taxi, left two injured. Police are investigating the cause of the accident.
In the aftermath, Mr Johnson said he has been feeling "sore and traumatised".
"My neck and shoulders are painful; I've been having sleepless nights," he said. "It was a traumatising chain of events that happened. We are lucky to be alive."
Mr Johnson added that it might be awhile before he drives again. "I'm already afraid to get into the car; to the driver's seat. It will take some time, hopefully. I think it will get better. If I drive, I will drive very cautiously," he said.
Mr Johnson's brother, Mr Solomon, uploaded video footage from the accident onto YouTube, which has garnered more than 2,200 views as of Thursday evening.