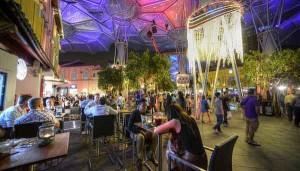 Police have shortened the liquor licensing hours for tenants in Clarke Quay, due to reports of drunken behaviour in the area.
Under the new limitations which kick in on Oct 1 2013, bars and nightclubs stretching from River Valley Road to the Clarke Quay Read Bridge will not be able to sell liquor after 3am on Sundays and weekdays, and after 4am on Saturdays and the eve of public holidays.
This will affect about 20 of the more than 60 outlets in Clarke Quay, a nightlife destination popular with locals and tourists.
So, we will start to hear "Any Last Order?" at about 3-4am then…