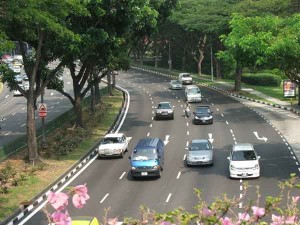 If a car owner receives payment from those who carpool with him, is he operating a pirate taxi service? Or is he merely in an arrangement similar to when people split the bill for a meal?
The Land Transport Authority (LTA) is expected to come up with an answer as more people pay for carpooling services.
A number of carpooling sites have already sprouted. Among the latest and most prominent is ShareTransport.sg, which has 15,000 users and expects to exceed 20,000 next year.
Another service called Carpool King has more than 15,000 users registered in the region, of which 5,000 are in Singapore.
The LTA has been keeping an eye on the development for about two years now, but has not come out with rules about payment. "The LTA is supportive of carpooling as it provides more transport choices to the commuting public. We are working on guidelines to mitigate any potential abuse of carpooling as illegal taxi services," a spokesman said.
Mr Moh Hon Meng, 44, who started ShareTransport.sg in March last year, said simple rules might include requiring that drivers have full-time jobs, and not rely on carpooling payments as their main source of income.
Also, rides must be "on the way" – meaning if car owners live in Hougang and work in Shenton Way, they cannot drop someone off in Jurong. Charges should be based on a "cost recovery" principle and not a profit-making one.
"Even if we have altruistic drivers who are willing to give rides, passengers would not want to take them, because they will feel bad. The passengers actually want to pay their share," said Mr Moh. A driver stands to recoup up to $600 a month in costs by offering carpooling services, he added.
Marketing manager Kimberley Ang, 46, has used Sharetransport.sg for about a year. She pays $5 for a ride from her Sengkang home to her Alexandra Road office. It would cost $26 if she took a cab. She said: "It's convenient, it's safe and I make friends along the way.
"It's a great idea, but there's not enough awareness yet. Which is strange because, in the old days, people used to carpool to get into the Central Business District," she said, referring to the time when cars with four occupants or more could enter the city centre without paying for an area-licensing coupon.
That was dropped in 1994, when drivers began picking up passengers from bus stops.
On the flipside, some observers believe that taxi drivers are likely to complain if carpooling becomes more prevalent.
But cabby Victor Yow, 67, said carpools will not be a threat. "They are likely to operate during peak hours, when there are more commuters than taxis can cater to." Still, carpoolers feel that the authorities should come out with clear and enforceable rules to separate those who share rides from those who run illegal cab operations. Anyone convicted of the latter can be fined up to $3,000 or jailed up to six months, or both.