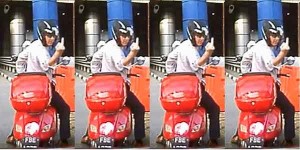 Yet another road rage incident involving an Ang Moh motorist happened on the roads of Singapore! According to the Singaporean victim Tay, the arrogant motorist flashed his middle finger and hit his car just because Tay tapped his horn (once) when the motorcyclist did an illegal U-turn.
Is this the sort of thuggish behaviour we expect from our foreign talents? Regardless of one's wealth and standing, one is expected to abide by the laws of the land you are in. The motorist's total disregard for fellow motorists and his arrogance pissed off many Singaporeans. Many have since called for the authorities to take swift action against him.
Alas, no action was taken against this brazen motorist for his bad behaviour till today.
Because of the authorities's reticence in doing justice, The Unseen Singapore felt compelled to stand up for our fellow Singaporeans. Without further ado, we present to you, Mark Franklin, the Suntec City road rage motorist.
Based on the evidence given by Tay, the motorist speaks with a British accent and the incident happened at Suntec City.