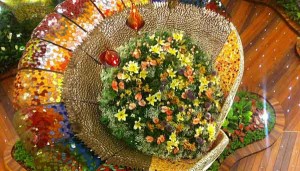 The Singapore Changi Airport on Monday unveiled its first themed garden with interactive and immersive elements, located in the North Wing of its Terminal 2 Departure Transit mall.
Named the Enchanted Garden, the 390sqm garden is situated between rows of airport shops and features more than 50 species of fresh ferns and flowers. When walking through the garden, visitors will step on sensors that trigger sounds of nature, recorded in the Borneo rainforest. They will also see mechanical flowers blooming right before their eyes.
At the centre of the garden is four glass bouquets, decorated with hand-pieced mosaic. Each bouquet holds at least 300 freshly-cut flowers that will be changed seasonally. The garden also features a koi pond.
The new garden is Changi Airport's fifth garden, but its first to offer visitors an interactive, immersive experience with sound and sensor elements. Other gardens include the Orchid Garden at T2 and Butterfly Garden at T3.
So, we do have some free place of interests in Singapore after all. It may be a good idea to bring your family there this weekend to checkout Changi Airport gardens.
Some useful links:
Singapore Changi Airport Parking Fees