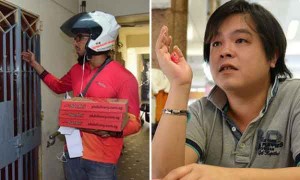 Haha, this is funny.
Social media portal SMRT Ltd (Feedback) pulled off a prank on Mobile Air owner Jover Chew on 5th Nov. Jover Chew's shop, Mobile Air, became infamous after recently refunding a woman $1,010 in coins, which included one-cents and five-cents.
A Vietnamese tourist was subsequently left in tears while kneeling and begging for a refund after buying an iPhone 6 for his girlfriend at the same shop.
Since then, social media portals like SMRT Feedback and netizens have been posting photos of him information about his whereabouts online.
They are demanding that the shop refund the Vietnamese tourist an additional $550 as he had paid $950 for the phone.
He was given a $400 refund after police and CASE officers arrived on the scene. He accepted the refund as he had to return to Vietnam soon, and was unsure if CASE could resolve the issue by then.
Netizens were unhappy with the actions of Jover Chew and sought to punish him by making him spend money on unnecessary items. On 5th Nov morning at 11am, Jover Chew's particulars were used to order three large pizzas from Pizza Hut.
The three pizzas, worth $54.40, were delivered to Jover's flat in Ang Mo Kio 20 minutes later. However, no one answered the door.
Things did not end there. 10 minutes later another order was made, but this time with the particulars of Jover Chew's wife.
Delivery men arrived for a second time at 11.55am, but once again no one claimed the pizza.
The owner of a Sim Lim Square mobile shop, which has been making headlines after two customers faced nightmare ordeals there, has been exposed online after social media portals and netizens posted photos and information about him online.