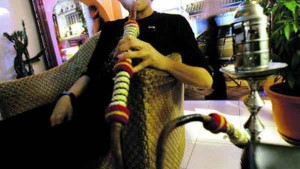 Shisha is no less hamful than other forms of tobacco use, so the Ministry of Health (MOH) intends to prohibit the import, distribution and sale of shisha from later this month, said Parlimentary Secretary for MOH Associate Professor Muhammad Faishal Ibrahim in Parliament on Tuesday (Nov 4).
According to the National Health Survey 2010, 7.8 per cent of young adults aged 18-29 years smoke shisha at least occasionally, compared to 1 per cent among older adults. The Student Health Survey found that the proportion of students who used alternative tobacco products, including shisha, had increased from 2 per cent in 2009 to 9 per cent in 2012.
Dr Faishal said that in view of the health risks associated with shisha smoking, and to prevent the proliferation and entrenchment of shisha smoking in Singapore, the ban will be effected later this month.
"However, as a transitional measure, existing licensed tobacco importers and retailers who import or sell shisha tobacco will be allowed to continue importing and retailing shisha tobacco until Jul 31, 2016," he said.
"This allows such importers and retailers ample time to deplete their stock and restructure their businesses away from the shisha business."