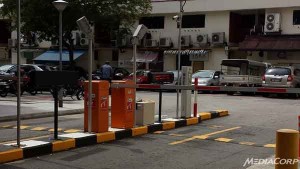 Well, this is good news for all motorcyclists.
Motorcyclists will have to pay per-minute for parking starting today, July 1 at all Housing and Development Board (HDB) and Urban Redevelopment Authority (URA) car parks which have the Electronic Parking System (EPS), the agencies said on Monday (June 30).
In a joint statement, HDB and URA said the new rate will be S$0.20 per hour, charged on a per-minute basis, and will be capped at S$0.65 per day or night parking session. There are more than 500 car parks installed with EPS. The 10-minute grace parking period remains the same.
Currently, motorcyclists have to pay a flat S$0.65 parking fee each time they enter a car park, regardless of the actual parking duration. Parking charges at non-EPS car parks will remain unchanged.
National Development Minister Khaw Boon Wan commented on the parking rate changes in a blogpost on Monday, saying the move will "particularly benefit the delivery riders" as they will pay less than before.
He cited the example of Mr Ahmad Indra Bin Sabtu, a delivery rider who visits about 25 car parks for a typical shift and used to spend up to S$5 on parking charges daily. "Now, Mr Ahmad Indra can pay as he parks, with the charges capped at S$0.65 per session, or S$1.30 for both day and night, at each car park," the minister wrote.
The HDB and URA also illustrated the savings delivery riders can stand to benefit from with the new parking rates. Delivery rider A, for example, makes about 20 delivery trips daily (of which five are to EPS car parks) and each trip lasts 15 minutes. Assuming he works 20 days a month, Delivery Rider A will have to fork out S$780 per year based on the old EPS charges.