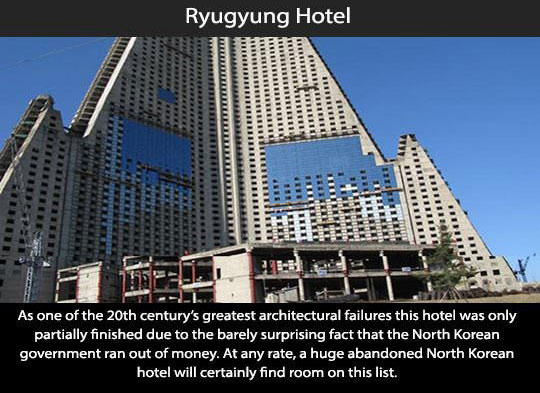 The Ryugyong Hotel (sometimes spelled as Ryu-Gyong Hotel), or Yu-Kyung Hotel,[3] is an unfinished 105-story, 330-metre-tall (1,080 ft) pyramid-shaped skyscraper in Pyongyang, North Korea. Its name ("capital of willows") is also one of the historical names for Pyongyang. The building is also known as the 105 Building, a reference to its number of floors. The building has been planned as a mixed-use development, which would include a hotel. The building is currently listed by Guinness World Records as being the tallest unoccupied building in the world.
Construction began in 1987 but was halted in 1992 as North Korea entered a period of economic crisis after the dissolution of the Soviet Union. After 1992, the building stood topped out, but without any windows or interior fittings. In 2008, construction resumed, and the exterior was completed in 2011. It was planned to open the hotel in 2012, the centenary of Kim Il-sung's birth.
A partial opening was announced for 2013, but this was cancelled. In 2018, an LED display was fitted to one side, which was used to show animation and film scenes.