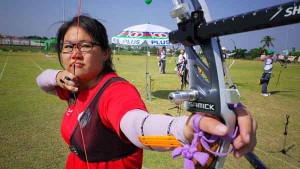 Chan Jing Ru has won Singapore's first archery gold medal in 30 years at the SEA Games in Myanmar. The 23-year-old NUS undergraduate beat her Indonesian opponent in a thrilling women's individual recurve final.
Chan hit a bull's eye with her last shot for 10 points, ensuring she won the final round 6-4. Indonesia only managed seven points. The win is Singapore's first gold in the sport since 1983.
Chan's coach, Sng Beow Leng is optimistic about the future of the sport, especially with the 2015 SEA Games to be hosted by Singapore. But she said training infrastructure in Singapore has to catch up.
Sng Beow Leng said: "All the Southeast Asian countries are doing their very best to improve their standard so we have to catch up, we have to really move on.
"And of course, a proper training ground is essential. Right now, we don't even have a ground. We are using a community club's range to train."