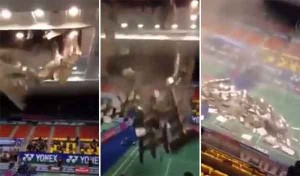 A large portion of the ceiling at the Phan Dinh Phung Stadium collapsing onto the badminton court this week has been caught on camera.
In a video posted by Youtube user EXI, it showed the ceiling collapsing and engulfing the arena with dust during the Yonex Sunrise Vietnam GP Open 2014.
The event was taking place in Ho Chi Min City.
According to the user, he said the stadium roof collapsed before the match started.
From the video, it seemed that nobody was injured.
Also, in the video, we can clearly hear a person talking. And it is very clear he is a Singaporean.