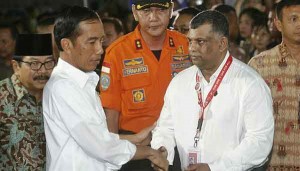 We felt he handle this correctly. Maybe this is the difference between a big and a small airline. Small airline seem to handle it by touching the heart of people.
As AirAsia faces its most serious crisis to date, the man who built up the budget airline from scratch has put himself front and centre. Chief executive Tony Fernandes has engaged the public, visited families and rallied his staff, even as search parties scoured the seas for two days to locate Flight QZ8501.
Soon after the authorities announced yesterday that they had most likely found debris from the ill-fated Airbus A320, he took to Twitter to deliver a personal apology. "My heart is filled with sadness for all the families involved in QZ8501," he wrote. "On behalf of AirAsia my condolences to all. Words cannot express how sorry I am."
The social media platform has been a powerful tool for him in reaching out to important stakeholders, as he sought to stem the fallout from this tragedy.
Besides this apology, Tan Sri Fernandes, 50, had earlier tweeted that this was his "worst nightmare" and that his "heart bleeds" for the family of the affected crew and passengers, even as he thanked them for their continued "support and love for AirAsia".
He also rallied his staff in Indonesia, praising them for being "strong, brave and committed". As their group CEO, he said, "we will go through this terrible ordeal together and I will try to see as many of you". When contacted, AirAsia's public relations team declined to give more information on what Mr Fernandes has said to staff or relatives, asking The Straits Times to refer to the statements on social media.
But in all, he sent out at least 17 tweets regarding the missing plane in three days. He repeatedly talked about "strength" – how he gained strength from the outpouring of support and the importance of "staying strong" amid the crisis.
Mr Fernandes also made sure that his actions matched his words. He rushed down to Surabaya on Sunday soon after Flight QZ8501 was reported missing, and did his rounds with families of the victims, speaking individually to them on consecutive days at the crisis centre set up at Juanda International Airport.
His positive tone may not have stopped AirAsia's share price from plunging 8.5 per cent on Monday, the first day of trading after the disaster, but it has lent a human face to the airline and created an air of reassurance during a tough time, which has resulted in generally positive feedback among the public.
"Good luck with this difficult time," Twitter user Vicki Rothman tweeted in reply to Mr Fernandes yesterday. "And well done for being personally involved and 'on the ground'. #goodboss" Mr Fernandes' pro-active stance stands in contrast with the uncertainty displayed by Malaysia Airlines CEO Ahmad Jauhari Yahya when MH370 went missing in March.
At the time, Malaysia's national carrier and its leader were criticised for being slow with disclosing information and for releasing conflicting details. Mr Fernandes will be expected to continue the leadership he has been showing now in steadying AirAsia, the debt-laden airline he acquired for RM1 (38 Singapore cents) in 2001.
As he headed back to Surabaya again yesterday, he sent out another tweet: "Whatever we can do at AirAsia we will be doing."