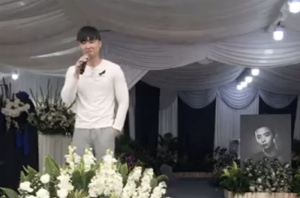 This really sadden us a lot. This was what he said when his mother visited him at the hospital at New Zealand after he was awaken after the incident. Video at the bottom of the post.
The mother of the late actor Aloysius Pang was the first person to speak to him after he regained consciousness, said his eldest brother Jefferson at a public memorial for Aloysius on Sunday (27 January).
Among the 28-year-old's final words, "Mom, don't cry. If you cry, I will cry too. And I'm in a lot of pain."
Jefferson, who spoke on behalf of his family, added that Aloysius nevertheless promised their mother, "I will recover in a couple of days and I will take you to New Zealand casino for a walk."
"He really loved Mom with all his heart."
Jefferson, 33, led the tributes to his youngest brother as hundreds came to pay their respects to the late Corporal First Class (NS) Pang. Aloysius succumbed to his injuries on Wednesday night, making him the fourth Singapore Armed Forces (SAF)-training related fatality in 16 months.
Pang suffered crush injuries to his chest and abdomen last Saturday afternoon after being caught between the end of the gun barrel and the interior of a Singapore Self-Propelled Howitzer (SSPH) that he and two other SAF personnel were servicing.
At the time of the incident, Pang, an armament technician from the 268th Battalion Singapore Artillery, was one of more than 500 soldiers participating in Exercise Thunder Warrior in New Zealand.
Despite undergoing three operations, his condition worsened and he was placed on artificial life support at the intensive care unit in Waikato Hospital, New Zealand, before succumbing to his wounds.
Following Aloysius' death, top SAF commanders called for an army-wide safety timeout as well as a reduction in training tempo across the army, navy and the air force. Pang will be accorded a military funeral before being cremated at Mandai Crematorium.
'I cannot bear to let you go'
A total of 14 eulogies were delivered for Aloysius, who was the youngest of three children. His girlfriend Jayley Woo, 27, who earlier revealed that the pair had made plans to marry, did not speak.
As family members, friends, fellow actors and colleagues shared their memories of the former child actor, a portrait emerged of a thoughtful and compassionate young man who was dedicated to his craft and who also aspired to be a director.
A man devoted to his family and who cared for people, he would even buy gifts like Aloe Vera gel and portable fans for cast and crew who were sunburnt or suffering in the heat during a shoot, said those who spoke. There was an aching sense of loss in the air.
Actress Felicia Chin, 34, recalled a "kind little boy" who would set aside 10 per cent of his pay every month to thank and bless the production people, even though he did not earn much. "He said it might not be a lot but production people work very hard…he always took time to stop and care."
Aloysius was particularly close to industry veteran Chen Shucheng, 69, who teared as he said in Mandarin, "I told him, I cannot bear to let you go. I will keep him in my heart."
Fellow veteran Hong Huifang, 59, first worked with Aloysius when he was 12. "Aloy, as parents, you are the kind of son we would all like to have," she said wistfully in Mandarin.
Fittingly, director Joyce Lee said that Aloysius' parents were the people he loved most in the world. "He told me that the most important thing he wanted in a girlfriend was for her to be filial to his parents…otherwise he would not accept her," she said in Mandarin.
Lee directed the 2016 film Young and Fabulous, which starred Pang. She had dinner with him the night before he departed for New Zealand ("Perhaps it was Heaven's will"). Lee recalled their last conversation, "He told me he was really looking forward to the trip because he needed to think about things. He was already 28, and he needed to take care of his family."
Veteran Mediacorp artiste Kym Ng, 51, who played Aloysius' mother in two productions, fondly recalled their long conversations and ping-pong sessions together, and how he would address her as Sister Qin so as not to make her feel old.
"Why do I love Aloysius? Because he is very thoughtful, she said. "I will miss you, Aloysius. I will miss your smile, your big eyes, and the gentleness in your voice when you talk. Farewell."
Video: