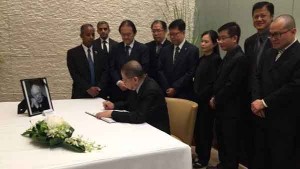 Well said. Maybe everyone should just follow his example.
Since the passing of Singapore's founding Prime Minister Lee Kuan Yew on Monday (Mar 23), political figures from around the world have been paying tribute to the late leader.
Across the causeway, politicians – those in government and in opposition – have called on Malaysians and those in the region to learn from, and emulate, Mr Lee. Among them is Abdullah Ahmad, former political secretary to Malaysia's second Prime Minister Abdul Razak Hussein.
"To me he was one of the greatest political and pragmatic leaders of the 20th century," said Mr Abdullah. "Walk the talk if you want to be a leader, no hanky panky, live spartanly, honestly and be brave and take action without fear and favour."
He added: "Lots of people talk but can't deliver; Malaysians, Singaporeans and people in ASEAN should learn from him. In the end, actions speak louder than words. Mr Lee set leadership by example and nobody questioned his integrity."
Zaid Ibrahim, a former Malaysian Minister in the Prime Minister's department, said Mr Lee's principled outlook is a lesson for Malaysia. "Any country that seeks to build a strong and united community must be guided by very strong principles," said Mr Zaid Ibrahim. "This is something we can learn from him; China learnt a lot from him and so can we, if we can manage our ego a bit."
Mr Lee's influence in the international community has also not gone unnoticed in Malaysia. "Singapore has been able to punch above its weight on my fronts," said Lim Kit Siang, Opposition Leader, Democratic Action Party. "There is no reason why Malaysia hasn't been able to punch above our weight. That's something Malaysians are concerned about."
Since Mr Lee's passing on Monday, the Singapore High Commission in Kuala Lumpur has received a steady stream of visitors, prompting the extension of the signing of the condolence book until 6pm on Sunday.