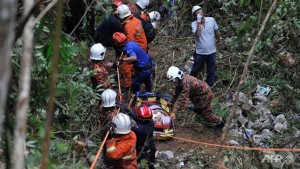 A bus carrying up to 45 people plunged into a deep ravine near a Malaysian hilltop tourist resort on Wednesday, police said. 37 people are confirmed dead as till now. The toll could climb further because 16 other passengers were injured, with hospitals reporting some in critical condition. "Thirty-seven are dead – 13 women and 24 men," Christopher Chong, a fire official at the scene.
Authorities said the bus was carrying 53 passengers when it went off a swerving road and plunged down a steep 70-metre slope in the Genting Highlands, a gambling and entertainment resort about an hour's drive from the capital Kuala Lumpur. Authorities said the bus was heading downhill when the driver apparently lost control on a bend. The driver was among those killed, reports said.
They said most of the passengers were Malaysians, but staff at Hospital Kuala Lumpur said injured brought there after the crash also included a Thai man and a Bangladeshi man.
Police said the bus was part of a line that regularly ferries both tourists and locals between the capital and the hill resort. Malaysian media said the accident occurred around 3pm. Amateur photos circulated on the Internet shortly afterward showed a bus lying on its side in thick vegetation about 30 metres (100 feet) down from the road.
The road to the Genting Highlands is notoriously steep and winding, and accidents are common. Two Indian tourists died and 22 other people were hurt in March 2012 when their bus overturned in the area.
We shall pray for those survive to recover as soon as possible. And hopefully the side or the roads will make better barricade to prevent vehicles from plunging out of the road in future. A lot of Singaporean also visit Genting Highland regularly too. We also love to drive up to enjoy the fresh and cool air there. So everyone, do drive safely everywhere no matter what vehicles you are driving.