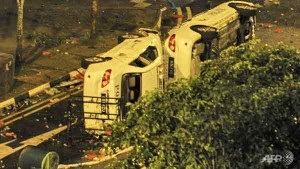 Police said 24 people are to be charged in court on Tuesday afternoon in relation to the riot in Little India on Sunday night.
All 24 are Indian nationals.
They were among the 28 people arrested in the riot, including 25 Indian nationals, two Bangladeshi nationals and a Singapore Permanent Resident.
Subsequent police investigations showed that the Singapore Permanent Resident, two Bangladeshi nationals and one Indian national were not involved in the incident.
The riot, the first in over four decades, broke out after a fatal bus accident at the junction of Race Course Road and Hampshire Road.
Some 400 people were involved in the riot.
On Monday evening, police gave details on the accident that sparked off Sunday's trouble.
According to the police, 33-year-old construction worker Sakthivel Kumaravelu was intoxicated, and had boarded the private bus, which was believed to be ferrying foreign workers to a dormitory.
With the help of a 38-year-old Singaporean woman who handles transport arrangements for foreign workers between their dormitories and Little India, the man was taken off the bus as he was causing trouble.
Police said the driver heard a loud bang on the left side of his bus as he was turning onto Race Course Road and on alighting, found Mr Sakthivel underneath the bus, near the left rear tyre of the private bus.
There was a crowd of about 100 men at the scene, but they were not aggressive when police arrived on receiving a report on the accident.
Singapore Civil Defence officers who tried to extricate the body from underneath the bus were hindered by the crowd that had by now become "boisterous".
Police and SCDF officers had to form a shield to protect the officers working to extricate the victim.
By the time they managed to recover Mr Sakthivel's body at about 10pm, the crowd had started assaulting the bus driver and woman time-keeper, by throwing bottles and dustbins at the bus.