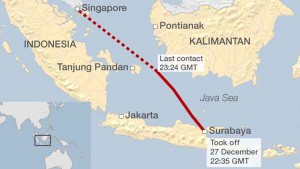 An AirAsia Indonesia airliner flying from Indonesia to Singapore with 162 people on board has gone missing.
Flight QZ8501 lost contact with air traffic control at 06:24 local time (23:24 GMT Saturday) over the Java Sea. The plane, an Airbus A320-200, disappeared midway into the flight of more than two hours from the city of Surabaya. No distress call was made. Bad weather was reported in the area, and an air search operation has now been suspended for the night.
Planes from Indonesia and Singapore had been scouring an area of sea between Kalimantan (Borneo) and Java. Some boats were reported to be continuing to search as night fell.
AirAsia Chief Executive Tony Fernandes: "We are devastated by what's happened"
No wreckage has been found, an Indonesian official told the BBC. AirAsia's Chief Executive Tony Fernandes, who has flown to Surabaya, said: "We don't want to speculate but right now of course the plane has been missing for 12 hours and there's a deep sense of depression here. "This is a massive shock to us and we are devastated by what has happened. It's unbelievable." He said the captain had more than 20,500 flight hours, almost 7,000 of them with AirAsia.
The flight left Surabaya in eastern Java at 05:35 local time (22:35 GMT) and was due to arrive in Singapore at 08:30 (00:30 GMT). The missing jet had requested a "deviation" from the flight path to avoid thick storm clouds, AirAsia said.
Indonesia's transport ministry said the pilot had asked permission to climb to 38,000ft (11,000m). Ministry official Djoko Murjatmodjo said the request "could not be approved at that time due to traffic, there was a flight above, and five minutes later [flight QZ8501] disappeared from radar".
Changi airport staff directing relatives of AirAsia Flight QZ8501, 28 December 2014
Flight QZ8501 was supposed to arrive early this morning. Hours later the families of the passengers gathered here have very little information. Airport officials are keeping them well away from the media and trying to make them comfortable.
Anxious family members wait for news at the airport in Surabaya. A few hours ago many of the relatives at the crisis centre in the airport still seemed calm – glued to their phones, perhaps trying to find any news of the plane or stay in touch with friends and loved ones
But more than 12 hours since the plane took off they are looking increasingly worried. Officials still have no idea what happened to the aircraft. The governor of East Java, Soekarwo, the mayor of Surabaya, Tri Rismaharini, and the chief executive of AirAsia, Tony Fernandes, have come to talk to the relatives to assure them that all is being done to locate the missing Airbus.
Flight MH370 disappeared on a flight from Kuala Lumpur to Beijing in March with 239 passengers and crew. The wreckage, thought to be in southern Indian Ocean, has still not been located. MH17 was shot down over Ukraine in July, killing all 298 on board.
There were 155 passengers on board flight QZ8501, the company said in a statement:
138 adults, 16 children and one infant
Most on board were Indonesian
Several were from other countries: one UK national, a Malaysian, a Singaporean and three South Koreans
The British national is Chi-Man Choi
Two pilots and five crew were also on board – one French, the others Indonesian
The plane in question was delivered to AirAsia in 2008, has flown 13,600 times, covering 23,000 hours, and underwent its last maintenance on 16 November.
AirAsia has set up an emergency line for family or friends of those who may be on board. The number is +622 129 850 801. Dozens of passengers' relatives have been gathering at Juanda airport in Surabaya and Singapore's Changi airport to hear news.
AirAsia Group facts
Low-cost airline group with main hub in Kuala Lumpur, Malaysia. Founded in 2001
AirAsia Group services now comprises eight affiliates, including AirAsia Indonesia
Group employs more than 15,000 staff
Operates fleet of more than 150 Airbus A320 aircraft with 200 more on order
Flies to about 100 destinations in some 15 countries. Carried almost 8 million passengers in 2013
Tony Fernandes has been the group's CEO since December 2001