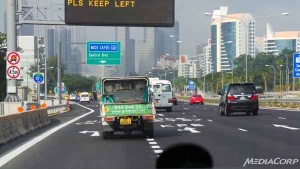 Traffic on the new Marina Coastal Expressway (MCE) was light and smooth on the first work day of the new year on Thursday morning.
Motorists travelling from the Ayer Rajah Expressway (AYE) to the MCE and into Central Boulevard were able to move steadily.
Westbound traffic from the East Coast Parkway (ECP) into Central Boulevard also did not face any problems.
On Monday, traffic on some parts of the MCE was heavy, with bottlenecks in exits to Central Boulevard.
The Land Transport Authority has made adjustments to ease traffic by widening Central Boulevard from two to four lanes.
More electronic signs have also been put up to guide motorists.
We still hear complains from Singaporean regarding this. I think it will take some time to get use to this.