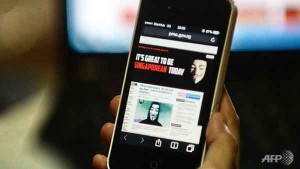 The subpages on the Prime Minister's Office (PMO) and Istana websites were compromised on Thursday night. In a statement issued on Friday, the Infocomm Development Authority (IDA) said a subpage for search on the PMO website was reported to be compromised on 7 November 2013 at 11.17pm while the Istana website was hacked at 12.20am on Friday.
The subpage on Prime Minister Lee Hsien Loong's official website was hacked by apparent members of activist group Anonymous after he vowed to hunt down anyone who attacks Singapore's technological network. "It's great to be Singaporean today," read a mocking headline in a section of www.pmo.gov.sg next to the group's trademark Guy Fawkes mask, a symbol of anti-establishment defiance worldwide.
Next to it was another image saying: "PM Lee warns hackers: We will track you down – even if you think you're 'anonymous'". The defaced section was quickly taken offline after the hacking incident surfaced in a posting on Facebook. The rest of the site was working normally.
In a later statement, IDA said the PMO and Istana main websites are still working, and it will restore the compromised pages as soon as possible. IDA explained that a vulnerability in the subpages was exploited so that they display pages from other sources. It added that the matter is under investigation.
The agency said it will continue to strengthen all government websites, including checking and fixing vulnerabilities and carrying out software patching. While this is in progress, those visiting government websites may experience intermittent problems with access, it added.
IDA apologised for the inconvenience and said the work will be completed as soon as possible.