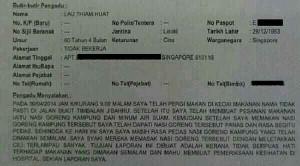 As Singaporean, we can only say this is a disgrace. Even if this is done in Singapore, we still feel it is a disgrace, and this happen with a Singaporean in Johor? He, we assume he is a male with the name "Lau Thiam Huat", went to police because he wish to go to a hospital for a checkup. Seriously???
A Singaporean from Taman Jurong had filed a police report because the nasi goreng kampung (local fried rice) he ate along Jalan Bukit Timbalan, Johor Baru was too spicy. The matter took social networks by storm last night after a copy of the police report found its way to the Internet.
These are excerpts from his police report: "Around 9pm on 30 April, I went to eat at a shop which I can't recall the name. After I ordered the nasi goreng kampung and warm water, I had my meal, I found that it was extremely hot and too spicy.
"Until today (May 1) I can still taste the spiciness from the rice I ate yesterday. I suspect that they cooked the rice with too much chilli.
"The reason why I am making this report is because I am very unhappy with the rice I ate and wish to go to a hospital for a checkup," he stated in the report.
Johor Baru (South) deputy police chief Supt Abdul Samad Salleh, when contacted by The Rakyat Post confirmed receiving the report, however, declined to elaborate further on whether or not they will pursue the matter.