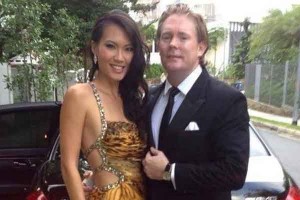 A British wealth fund manager has been forced into hiding in Singapore after he apparently mocked "poor people" who used public transport and called a cabbie a "retard".
To make matters worse, former London banker Anton Casey, 39, said in a YouTube video: "I don't mean to offend anyone. Don't be angry at me. Be angry with your mum and dad for raising you a wuss."
Porsche-driving Mr Casey, who has a five-year-old son with his wife, Miss Singapore 2003 Bernice Wong, claims his family have received death threats and has gone to the police.
Hundreds of angry locals have called for him to leave the country in comments on news and social media websites, while Mr Casey's employer, wealth management firm Crossinvest, has condemned his remarks and launched an investigation.
The furore began on Sunday when Mr Casey, who has lived in Singapore for 12 years, uploaded a picture on Facebook of his son riding on a metro train, with the caption: "Daddy, where is your car & who are all these poor people?"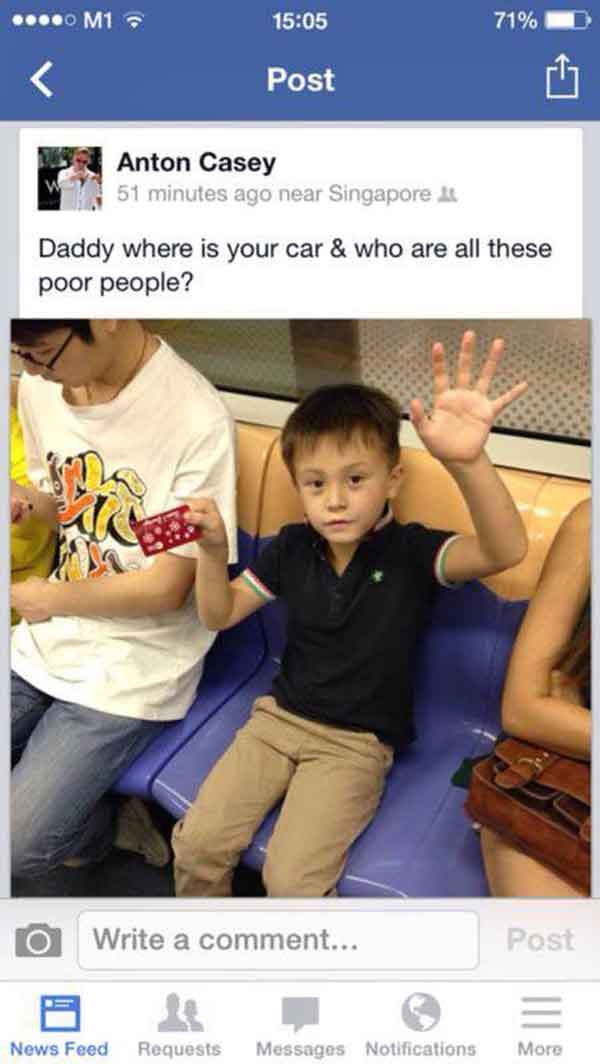 Another picture showed the boy sitting inside a silver convertible Porsche, with a caption saying: "Ahhhhhhhh reunited with my baby. Normal service can resume, once I have washed the stench of public transport off me."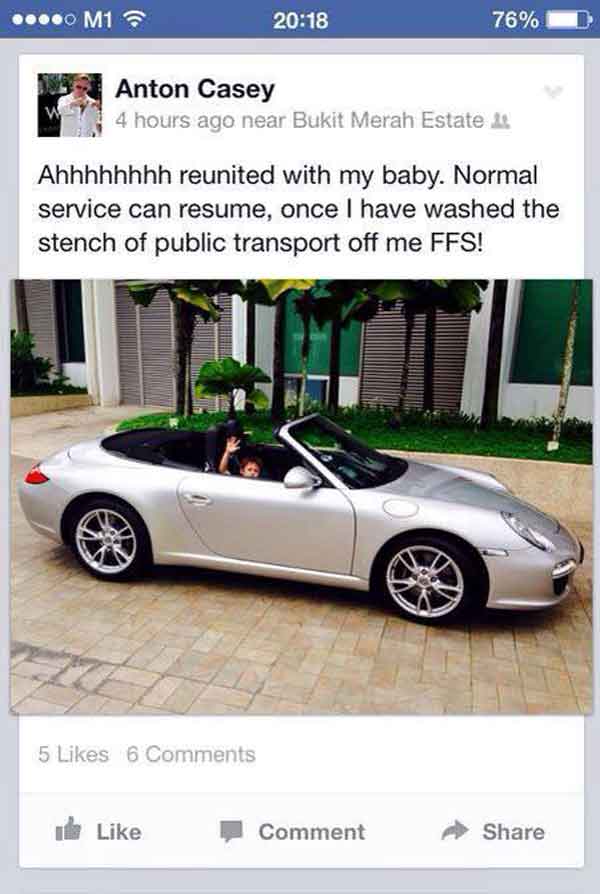 As the Facebook posts went viral, another picture was found on Mr Casey's account of a Singaporean taxi driver, whom he called a "retard" for wearing arm warmers and gloves, with the comment: "After 11 years residency I am still trying to understand these people."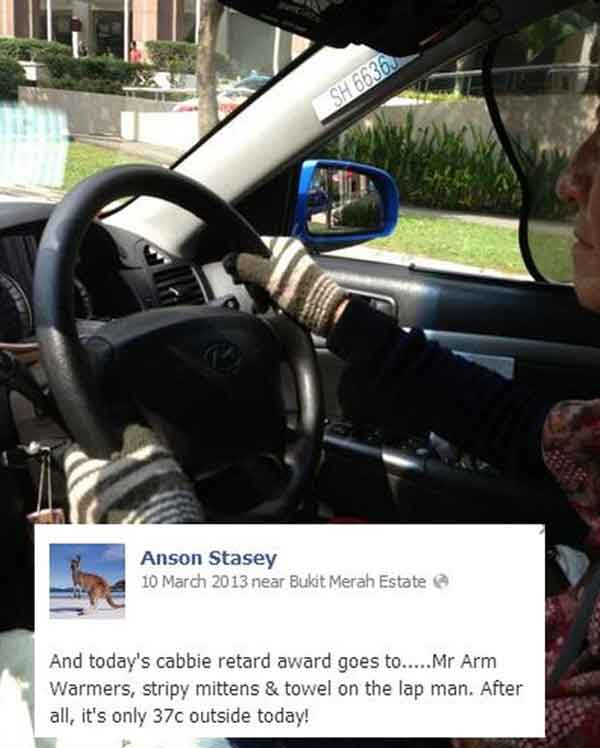 Mr Casey, who has previously worked for HSBC and began his career as a stockbroker in the City, has apologised for his actions.
In a statement, he said: "I would like to extend a sincere apology to the people of Singapore. I have the highest respect and regard for Singapore and the good people of Singapore; this is my home. I wish for nothing more than to be forgiven for my poor judgment and given a second chance to rebuild the trust people have had in me as a resident of this wonderful country."
He claimed that the YouTube video was an old one that had been "misused" by "unknown sources" in order to portray him as unrepentant. Mr Casey also said there had been a "security breach" of his Facebook page and that his family had "suffered extreme emotional and verbal abuse online". He tried changing his Facebook name to Anson Stasey to stop the abuse but later deactivated the account.
Among the comments left on The Real Singapore online news website, Tony Tan wrote: "This guy is rich materially but poor spiritually.
Michael Ryan wrote: "Why oh why do you think you are so much better than others just because you happen to have cash… Shame on you mate, shame!"
Mr Casey's boss, Christophe Audergon, managing director of Crossinvest Asia, said: "We are investigating the comments made by our employee and will take appropriate action once we are in possession of all the facts."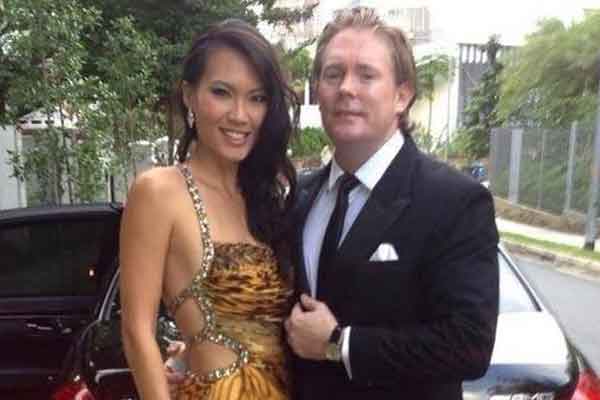 So what does fellow Singaporean think?