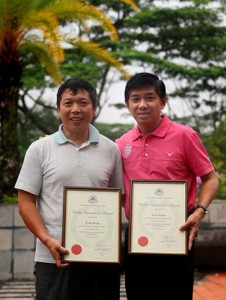 When Miss Nedra Lim found out that her father had saved a couple from a burning car, her first reaction was to worry for his safety.
Her father, Mr Lim Hong Kia, 53, sent a whatsapp message, accompanied by pictures of an accident at the Bukit Timah Expressway (BKE): "Accident at BKE, car burnt down, managed to pull out a couple. My hair was burnt."
But she feared for his safety until he returned home half an hour later. It was only when Ms Lim saw the video of the fire on TNP's YouTube page later that evening that she was shocked by the scale of the car fire and the danger her father had faced.
Mr Lim (above, right) and truck driver Yang Zhen Jun (above, left), whose vehicle was involved in the accident, received awards from the Singapore Civil Defence Force (SCDF) yesterday for their roles in the rescue.