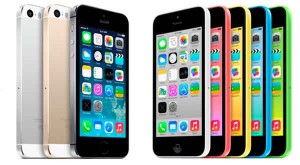 Apple launched two new models for its iPhone line yesterday, the iPhone 5c and iPhone 5s, and both models will be available in Singapore from Sept 20. After numerous rumours and leaked images weeks before its official introduction, Apple debuted the iPhone 5c — a model that signifies its entry to the lower end of the smartphone market.
Model Price (without contract)
iPhone 5c 16GB S$848
iPhone 5c 32GB S$988
iPhone 5s 16GB S$988
iPhone 5s 32GB S$1,148
iPhone 5s 64GB S$1,288
The iPhone 5c comes in five colours and features the same specifications and horsepower as the the iPhone 5, the device's most recent predecessor. The smartphone also does not depart from the 4-inch display from the previous model, and the key difference is that the 5c comes in a polycarbonate body reinforced by a steel frame. Apple marketing vice president Phil Schiller called the 5c "unapologetically plastic" as he unveiled it.
Without a contracted subscription plan, pricing for the LTE-based iPhone 5c starts at S$848 for the 16GB model — S$140 less than the starting price of the new iPhone 5s' 16GB model. Apple and local telcos like SingTel, M1 or StarHub have not unveiled the subsidised pricing for the iPhone in Singapore yet. In the United States, Apple will offer the phone for as little as US$99 (S$130), with a mobile subscription plan from a mobile carrier. Pre-orders for the iPhone 5c will start in Singapore on Sept 13.
Alongside the 5c, Apple also announced the 5s — a souped-up version of the iPhone 5 that mostly includes improvements under the hood, such as a new 64-bit A7 processor.
Apple claims that the new processor that powers the phone runs twice as fast as the A6 processor, but developers will need to tweak their apps to take full advantage of the processor. The smartphone also features a new dedicated motion processor called the M7 that enables the device to track motion more sophisticatedly. Apple hopes the M7 will be employed by more health and fitness apps that track activity by using movement sensors on a phone. The company mentioned that Nike was already working on an app that makes use of the processor.
Apart from a slightly different colour scheme (which includes a distinct new "gold" model), the biggest change to the iPhone 5s is the addition of a fingerprint scanner on the physical button located below its display. Instead of typing a password or code to unlock their devices, users can simply place their finger on the button to bypass the phone's lock screen or to approve purchases on Apple's iTunes store. Third-party apps do not have access to the fingerprint scanner yet, according to Apple.
Pricing for the iPhone 5s starts at S$988 for the base 16GB model, without contract. No pre-order dates have been announced for the iPhone 5s. So will you get it?