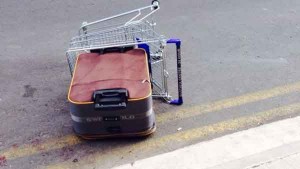 Wow, where can the legs be? We shall wait.
A grisly find at Syed Alwi Road at the Jalan Besar area. A dismembered body was found stuffed in a suitcase.
A fruit stall owner told Channel NewsAsia that past 5pm on Wednesday (June 11), an "old man" asked two tourists for help in pushing a trolley with a suitcase. When they touched the bag, their hands were stained with blood. It prompted them to ask the shop owner for permission to wash their hands on his premises.
A "karang guni" man, who collects old and discarded items to sell, reportedly found the body in the suitcase when he opened it.
Several policemen were seen at the scene this evening. Police said they received a call for assistance at 6:04 pm, and that an upper body without legs was found in a piece of luggage.
Police have classified the case as unnatural death and an investigation is underway.
Channel NewsAsia understands that the victim is male, and that an 81-year-old man is assisting the police with their investigations.