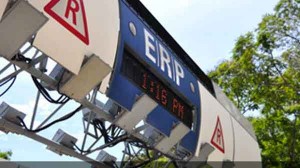 The Land Transport Authority (LTA) has completed its quarterly review of traffic conditions on roads with Electronic Road Pricing (ERP), and has announced its intentions to increase tariffs at three locations, which will affect a few gantries.
All ERP rates will increase by $1.00 – except on the Northbound CTE before PIE between 5:30pm and 6:00pm – which will increase by $0.50 to $1.00. After the revision commuters travelling through either of the two gantries on the ECP (Fort Road) and KPE Slip Road onto ECP, between 8:30am and 9:00am, will have to pay $6.00 – the highest amount after the current rates revision.
Below is the information on timings and rates:
Time Peroid
Current ERP Rates
ERP Rates after 5th August 2013
Southbound CTE after Braddell Road & PIE Slip Road into Southbound CTE
7:00am – 7:30am
S$0.00
S$1.00
7:30am – 8:00am
S$4.00
S$5.00
Northbound CTE Before PIE
5:30pm – 6:00pm
S$0.50
S$1.00
6:00pm – 6:30pm
S$1.00
S$2.00
ECP (Fort Road) & KPE Slip Road into ECP
8:30am – 9:00am
S$5.00
S$6.00
The rates for other gantries will remain unchanged and the revised rates will apply from Monday, 5th August 2013. The next ERP review will take place in November 2013 for the fourth quarterly rate review of 2013.
Seriously, companies should really consider changing working hours if possible…