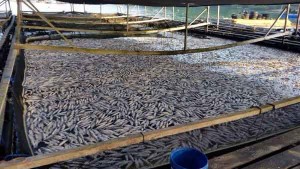 This is so sad for the fish farmers, fishes dead overnight. Fishes price are going to increase soon.
Several fish farmers in the East saw large stocks of their fish wiped out early Saturday (Feb 28) morning after the coast was hit by a tide containing huge plankton blooms.
When this happens fish have to compete with the micro-organisms for oxygen, which could cause them to die.
Philip Lim, who owns three fish farms, said: "It's huge. It'll cost me about S$50,000. All the fishes have come in just about three months ago, some of them just came in one month ago."
Mr Lim sent Channel NewsAsia videos of the scene on Saturday, saying his entire stock of fish was either dead or dying.
The Agri-Food and Veterinary Authority of Singapore (AVA) had said in a statement on Friday that it would monitor the situation, and work closely with the fish farmers to mitigate the issue.
It had warned the farmers early last week after detecting elevated plankton levels in the area, said AVA.
AVA has also deployed waste disposal vessels to assist farmers in the disposal of dead fish at the East Johor Straits caused by the elevated plankton levels.
On Feb 18, coastal fish farms at the Straits reported dead fish in the area. Since then, AVA has been visiting the fish farmers to ascertain the situation, offer advice to them to mitigate the situation, such as canvas-bagging, and collecting fish samples from the affected farms for analysis.
AVA said some farms have carried out emergency harvest of the fish in view of the elevated plankton levels.
It had earlier reported that laboratory tests conducted did not detect marine biotoxins in the fish. AVA said fish harvested from local farms are safe for consumption.