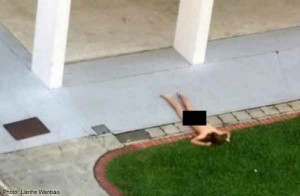 What could have happen? Maybe she was trying to take some clothes from outside the windows and wet feet cause her to fall?
An 18-year-old girl who fell from a 7th-storey flat in Bukit Panjang survived her ordeal, but suffered serious injuries when she landed on the common area at the foot of the HDB block on Tuesday morning.
The teen was not wearing any clothes when she was discovered at the foot of Block 431, with blood flowing from her head. A resident helped to cover her with a piece of cloth to protect her modesty before an ambulance arrived to send her to Khoo Teck Puat hospital.
A report by Chinese evening daily Lianhe Wanbao said she lives in a corner unit on the seventh floor of the block where she fell from. The only other person in the flat with her was her brother.
Her brother, who gave his surname as Chen, said he was sleeping during that time and only learnt that his sister had fallen when the police came to his door.
Mr Chen, 21, said his sister, who studies in a private education institution does not appear to have any problems, and added he was puzzled by the incident. The siblings live with their parents.
A resident in the area added the girl is pleasant-looking and can often be seen exercising and jogging in the neighbourhood.
He added: "She looks quite healthy and energetic. So I don't know why she fell."
The cause of her fall was not known.