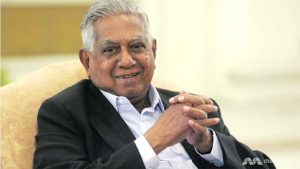 One of the few best Singapore president we had.
Former President S R Nathan died on Monday (Aug 22), three weeks after suffering a stroke. He was 92.
In its statement, the Prime Minister's Office (PMO) said: "The Prime Minister and his Cabinet colleagues are sad to learn of the passing of Mr S R Nathan and would like to convey their condolences to his family. The late Mr Nathan passed away peacefully at Singapore General Hospital on Monday at 9.48pm.
The PMO said a state funeral service will be held for the late Mr Nathan from 4pm on Friday at the University Cultural Centre in NUS.
His body will lie in state at the Parliament House from 10am on Thursday to 12pm on Friday, and members of the public who wish to pay their last respects can do so from 10am to 8pm on Thursday, according to the statement.
PMO also said that condolence boards will be available at the Istana from 6am on Tuesday for those who wish to pen tributes to the late President.
Mr Nathan had been warded at Singapore General Hospital since his stroke on Jul 31. He leaves his wife, daughter, son and three grandchildren.
President Tony Tan Keng Yam said that he and his wife Mary were "deeply saddened" by Mr Nathan's passing. "As President of Singapore, Mr Nathan championed social causes by initiating the President's Challenge in 2000. The President's Challenge gained much support from the community and raised over $100 million for more than 500 beneficiaries during Mr Nathan's two terms of office," he wrote on Facebook.
Prime Minister Lee Hsien Loong sent his condolences to Mrs Nathan and the family. "I have known Mr Nathan for 40 years, since I was a young officer in SAF. I remember him as a man guided by a deep sense of duty to the nation. He stepped up each time duty called. He was a true son of Singapore," Mr Lee said.
Mr Nathan officially stepped down on Aug 31, 2011 after announcing that he would not seek a third term in office, and was succeeded by President Tony Tan Keng Yam.
After stepping down as President, Mr Nathan took up appointments as Distinguished Senior Fellow at the Institute of Southeast Asian Studies and at the Singapore Management University's School of Social Sciences.
Prior to becoming President, he held key positions in the civil service, as well as in security, intelligence and foreign affairs. He was appointed as Singapore's High Commissioner to Malaysia in 1988 and later Singapore's Ambassador to the United States of America from 1990 to 1996.
He also served as Singapore's Ambassador-at-Large, and later Chancellor of the National University of Singapore.