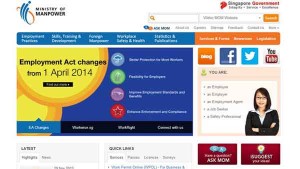 The Ministry of Manpower (MOM) has lodged a police report about a second duplicate of its corporate website.
Posting on its Facebook page on Sunday, the ministry cautioned members of the public on the small variation in the URL between the duplicates and its official website.
The second duplicate, which the ministry uncovered on Saturday, is at www.movgov.sg.
Meanwhile, the first duplicate website at www.momgov.sg — discovered two days ago — was deleted at 11.36pm on Friday, said the ministry.
However, as it would take about 48 hours for servers around the world to effect the deletion, some surfers may still be able to view that fake website for now.
MOM assured the public that its official website at www.mom.gov.sg remains unaffected, and urges the public to use only the official website for all MOM matters.
It also said there have not been any reports of user data being compromised to date.
Our question here is not why duplicate the website, our question here is, why MOM website?