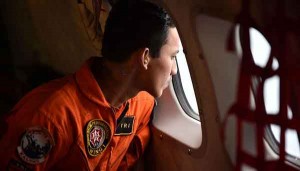 Hope everyone will be found soon.
Another three bodies were found on Wednesday, including one that was dressed in an air stewardess uniform, said chief of Indonesia's search and rescue agency who was updating reporters on the recovery efforts for AirAsia flight QZ8501.
The other two bodies were male, said Mr F. H. Bambang Soelistyo, chief of Basarnas.
This brings the total of bodies recovered to six.
Yesterday, Mr Soelistyo announced that two female bodies and one male body was found.
He told reporters on Wednesday that the retrieval process of bodies and debris had been hampered by bad weather.
"We are in a wait and see. Weather is bad currently. High tides and heavy rains. Every element is now in their position ready to make a move when weather improves," he said.
"Singapore and Malaysia vessels are also in the area now. They have joined us since the early search period, before we located the wreckage."
Basarnas will evaluate other foreign help that has been offered.
"Those that want to help we would accept but in a measured manner," he said.
"The US vessel we told them please stand by. We will keep in touch with us. Will call you when we need your system."
The US vessel was intended to help with search efforts, but the current teams have located the wreckage now, he said, adding that survey vessels will arrive at location on Wednesday to help locate exact location of plane parts.