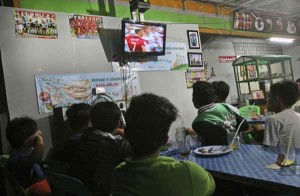 The exclusive broadcast rights in Singapore for the 2014 World Cup was won by SingTel and according to Media Development Authority's (MDA) cross-carriage rule, StarHub will also be allowed to carry coverage of the event.
Problem solved, it would seem, as consumers on both cable platforms will get a chance to view what is the most popular sporting event in the world. But the issue of costs is the bigger focus, not just amongst football fans, but also from the telcos themselves.
According to StarHub, the exclusive purchase of rights has led to a sharp increase in pricing, with a standalone package now costing S$112.35, up from S$88 in 2010 when the rights were shared by both telcos. Only four of the 64 matches, namely the opening match, both semi-finals and the final, will be broadcast on free-to-air channels.
But how does Singapore rank among other nations around the region? Is the cost of S$112.35 (USD88.50) a reasonable amount and on par with what football fans across Asia will be paying?
Country
Price
Broadcaster
Singapore
4 matches free-to-air
S$112 (USD88.50) for all 64 matches
StarHub/SingTel
Indonesia
Free-to-air
ANTV and tvONE
India
Free-to-air
Sony
Hong Kong
22 matches free-to-air
HKD148 (USD19.05) for all 64 matches
TVB
Japan
Free-to-air
NHK, Fuji, NTV, TV Asahi, TBS, and TV Tokyo
South Korea
Free-to-air
SBS
China
Free-to-air
CCTV
Malaysia
32 matches free-to-air
RM100 (USD30.50) for all 64 matches
RTM, Astro
Philippines
Free-to-air
ABS-CBN
Cambodia
Free-to-air
CTN
Thailand
Free-to-air
RS
Australia
Free-to-air
SBS
Vietnam
Free-to-air
VTV
Malaysia and Hong Kong are notably the only other Asian nations that will be broadcasting the 2014 World Cup on a subscription basis, with Singapore still by and far charging the most.
At USD88.50, SingTel's pricing is still more than twice that of the next costliest nation, Malaysia. Radio Television Malaysia (RTM) have broadcast the World Cup since 1974 and won the bid for this year as well. The state-owned network, however, have insisted that no government funding was used for the bid.
"We didn't request any extra budget from the Ministry of Finance," said Dato' Sri Ahmad Shabery Cheek, Malaysia's Minister for Communication and Multimedia. "We felt it was not right to use the tax payers' money."
Hong Kong who were also under scrutiny following TVB's hefty HK$400million (S$65million) bid for exclusive rights to the tournament, have kept their subscription pricing to HKD148 (USD19.05), with 22 matches to be broadcast on free-to-air basis.
In contrast, Singapore fans had to pay S$88 (USD69.50) to watch the 2010 edition, an amount that is already more than twice what Malaysia and Hong Kong fans will have to fork out in 2014.
Japan's six terrestial broadcasters, namely, Fuji, NTV, TV Asahi, TBS, TV Tokyo and NHK, formed a consortium to make a joint bid for the rights to the 2014 World Cup, following the costly exlusive rights purchase by satellite broacasters, SkaPa fours year ago. Half of the 64 matches this year will be shown on public broadcaster NHK, with the remaining matches carried by the other five free-to-air commercial networks.
Singapore football fans have already weighed in over the rising costs, with a similar pattern also seen over English Premier League coverage. In a recent poll conducted by Goal Singapore more than half of the respondents wanted intervention from the authorities to put an end to the price wars.
However, the commercialisation of football broadcasts is slowly taking effect in other nations as well.
Thailand's RS Sports' who own the exclusive rights to the 2014 World Cup had planned to charge THB1,590 (USD49.35) for a brand new set-top box to watch all 64 matches. Existing subscribers also had the option of upgrading for a fee of THB299 (USD9.30).
However their attempt has been quickly clammed down by the nation's regulating body, National Broadcasting and Telecommunications Commission (NTBC).
Similar to the MDA's rule of making events that are of national and public interest available for free, the NBTC have set aside seven such programming that must be broadcast on free-to-air basis, including the World Cup. The NBTC have warned that RS Sports' broadcast= licence may be revoked and a fine of THB17million (USD527,458) issued if they fail to comply.
FIFA TV Division Director Niclas Ericson has stated that the production costs for this year's World Cup will be significantly higher than previous years.
"You have 12 stadiums instead of 10, the country is much bigger, which means higher logistical costs, and the price level in Brazil is higher than it was in South Africa; so you have those three factors and that makes large increases," he told SBD Global in an interview last year. The net production costs for 2010 World Cup was estimated to be around USD150million with no known statistics for the 2014 edition.
SingTel and StarHub spent a reported S$21million for a joint bid for the broadcast rights in 2010 while StarHub forked out $6.3million for a solo bid four years prior. Both telcos have yet to reveal the figures for the winning bid this year.