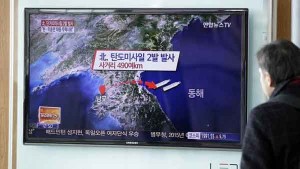 There he goes again, every now and then, this happens. Seriously, what is he thinking?
North Korea fired two short-range missiles off its east coast on Monday, South Korean officials said, a defiant response to annual military exercises between South Korea and the United States but one which drew a swift protest from Japan.
The firing came hours before the U.S.-South Korean military exercises were scheduled to begin, drills which the secretive North denounces as a preparation for war. Ministry spokesman Kim Min-seok said North Korea fired the missiles without designating any no-sail zones, which was regarded as a provocation.
"If North Korea takes provocative actions, our military will react firmly and strongly so North Korea will regret it in its bones," Kim told a news briefing. Pyongyang has escalated its rhetoric against the drills, with a spokesman for its army general staff saying Washington and Seoul "should be dealt with only by merciless strikes".
Japan quickly lodged a protest with North Korea over the latest missile launches, saying they posed a serious threat to safety at sea and in the sky. "The ballistic missile launches by North Korea are extremely problematic conduct in terms of aviation and navigation safety," Chief Cabinet Secretary Yoshihide Suga told a news conference.
"We swiftly lodged a stern protest with North Korea."
Japan needs to tread a fine line between conveying its condemnation to Pyongyang while not derailing bilateral talks aimed at resolving the issue of Japanese citizens abducted by North Korean agents decades ago.
In July, Japan eased some sanctions on North Korea in return for the North reopening its investigation into the fate of Japanese abductees. Little progress has been made so far.
North Korea frequently tests short-range missiles off its coast as part of military drills.
The United Nations has imposed sanctions banning North Korea from using ballistic missile technologies.