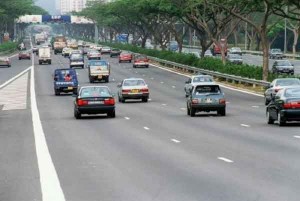 Result for January 2013 COE went above $90k. After years of increasing of the COE, I really wonder if government planning is correct. Their planning is suppose to cut Singaporean buying cars and take public transport instead to lower the congestion on Singapore road. I agree that Singapore road are getting more congested in recents years as more people are driving compare to olden days. But of course, because we have more than 5 million Singaporean, "ahem", maybe put it as we have more than 5 million people living in this country now. Of course more cars compare to olden days of 2.5 million people.
But this sudden cut of cars may not be the correct choice if a lot of people were to use their public transport, isn't it going to flood the buses and trains too? That is going to be the same frustration as stuck in a traffic jam too.
I myself is a driver, a biker and also take public transport to work because parking a car for 9 hours at my office is not worth the math. Riding to work is the fastest way but we are placed on the hand of weather for this case. Taking a public transport, in this case our MRT to work is also bad because of all the crowd. Sometimes, I need to wait for a few train before I get a chance to get on a train and my maximum record was 2 miss and able to only squeeze in the 3rd train.
Imaging all the current car owner COE are up and are forced not able to get a car and take train. I foresee my highest record of "unable to board" 2 trains breaking soon then.
Was pretty shock recently when a friend told me that a Suzuki Swift 1.3 is costing about S$130k with COE now. I remember I did a test drive on that car when I was getting my car and the price 4 years back was like S$50k. Seem like owning a car nowadays is only for the rich who willing to pay for these ridiculous COE price.
Should we encourage companies to change some working hours, we can see that 90% of companies starts work at 9am where I wonder who set this rule of 9am? Why not 8.30am or 8am? I feel that all these small little changes may help in the road congestion issue much better than cutting the COE quota and make the price rise so suddenly.
Do share this page to more readers!