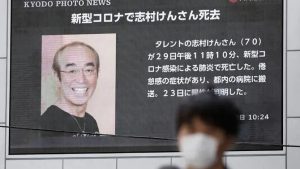 Famed Japanese comedian Ken Shimura has died after contracting novel coronavirus, according to his representatives.
Shimura, 70, one of Japan's best-known comedians with a career dating back to the early 1970s, reportedly had lung cancer surgery in 2016. He developed a fever and respiratory problems on Mar 19 and was hospitalised.
Dominating the television comedy scene in the 1970s and 1980s, one of his best-known acts was a clueless feudal lord with a face painted white with thick black eyebrows.
He was also previously a member of rock 'n' roll band and comedy group The Drifters, which opened for the Beatles' first ever concert in Japan in 1966.
Shimura suffered pneumonia-like symptoms and passed away on Sunday night.
He reported symptoms, including fatigue, on March 17 and was hospitalized on March 20 with severe pneumonia before testing positive for coronavirus on March 23.
Shimura is likely to be deeply mourned in Japan. He has been described as "Japan's Robin Williams," with the country's television networks heavily covering his death.
You can find some of his comedies here: https://www.youtube.com/results?search_query=Ken+Shimura