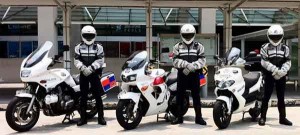 He will be issue 24 points for this. License revoked. Ok, jokes aside, wow, this is something new. Traffic Policeman… seriously, we know they are humans too, but they should know the law better than anyone else.
A traffic policeman who had sex with a 13-year-old girl was jailed for 15 months on Wednesday.
Faisal Amry Abdul Rahman, 26, who faced six sexual offences and one of criminal trespass into a female toilet, pleaded guilty to three charges of sexual penetration of a minor.
He is the third man to have been convicted and sentenced for having sex with the girl, who was in Secondary 1 at the time.
Deputy Public Prosecutor Eunice Lau told the court that Faisal Amry befriended the victim sometime in late 2011 over the online social network known as iMesh.