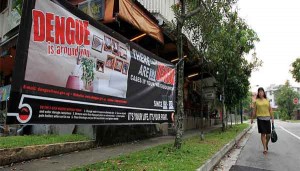 A 60-year-old Singaporean Chinese man has died of dengue, making him the second such death this year.
The Ministry of Health (MOH) and the National Environment Agency (NEA) said they have been notified of the death of an unnamed dengue patient who lived at Ang Mo Kio Avenue 3.
In a joint media statement, they said that the patient went to Tan Tock Seng (TTSH) emergency department (ED) on June 5 complaining of a fever, shortness of breath, vomiting and a rash on his left leg.
He was diagnosed with skin inflammation of the left leg and prescribed with antibiotics. He was also given an appointment to return to the polyclinic for a repeat blood test.
The patient returned to TTSH ED on June 7 with difficulty in standing due to weakness in his left leg. He was also suffering from continuing fever and loss of appetite.
He was admitted to the general ward and tested positive for dengue on June 8. Subsequently, his condition deteriorated and he was transferred to the Intensive Care Unit on the same day.
The patient passed away on June 9.
NEA said it has stepped up its vector control operations to destroy any potential breeding sites at the vicinity of the victim's residence.
The agency warned that residents should cooperate fully with the NEA inspectors conducting ground operations. It also cautioned residents to remain vigilant, protect themselves with repellent and clear any stagnant water in their homes and vicinity although it is a non-cluster area.
"MOH and NEA wish to express our deepest condolences to the family of the deceased patient. We strongly encourage all Singaporeans to take appropriate precautions to prevent mosquito breeding by doing the Mozzie Wipeout weekly," the statement said.
"Everyone needs to play their part and be socially responsible to stop the chain of transmission in the community. "
Those who suspect they may have dengue should consult their doctors as early as possible and use mosquito repellents in order to reduce the risk of spreading the infection further.
More details on this can be found at www.dengue.gov.sg.
News on the Dengue claims first life in Current Epidemic in Singapore