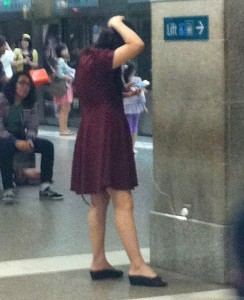 We wonder how true is this story about SMRT charging a Singapore student over usage of power socket. But with the rules of fine when drinking water in train, we assume this maybe true.
I just really wanted to share my views over something my friend encountered just recently, which I thought I should share it with others.
She was at one of the SMRT control stations waiting for a friend, when her phone battery was running low. As she saw some sockets available, she did not think much about it and proceeded to charge her phone while waiting.
Suddenly, the control station guy informed her that the sockets are not permitted for public usage. She removed her plug immediately. However, things did not end there, when the guy informed her that she would be charged for this.
The first time she went to court, the judge advised her to write a letter to appeal to SMRT, considering how minor this issue was. The appeal failed, and the second time she went to court, she was then fined $400.
I just felt really unfair for her, considering the fact that she has no idea the sockets could not be used (there were no warnings, or labels that the public cannot use them). It was also her first offence, and that she is still
a student working part-time to support herself.
This goes to show that SMRT has totally no compassion for its citizens, and I would not say much if it was her second, or third offence. However, it was her first! At least give her a chance for being so naive to think that the
sockets are readily available for public usage.
Hope this will give the general public some warning in advance.
Regards,
Gabriel Bai
Story from The Real Singapore