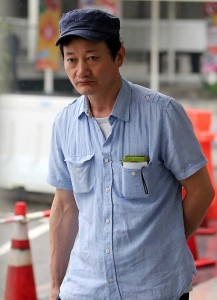 This is funny, and we have no idea why does he wants to do that, maybe it is the thrill, and now he will get more thrill in prison.
A South Korean man was jailed for seven weeks on Tuesday for taking upskirt videos at the NTUC Finest supermarket in Bukit Timah Plaza.
Lee Bok Yeon, 50, would place his two mobile phones in a shopping basket and approach women in skirts.
The then general manager of a company which is in the restaurant business, was nabbed when the boyfriend of one of his victims caught him in the act.
Lee, who faced 11 charges, admitted to four counts of insulting modesty on May 9 and 10 this year.
The court heard that on May 10, at about 3.30pm, a 25-year-old woman was doing grocery shopping with her boyfriend, aged 24, at the supermarket when the latter noticed Lee standing close to her.
The boyfriend noticed that whenever she bent down to choose vegetables, Lee would follow suit.
He also noticed that Lee had placed his shopping basket near her skirt. The boyfriend also saw two mobile phones in Lee's shopping basket, one of which had its camera lens facing upwards.
Suspecting that Lee had taken an upskirt video, he confronted Lee and grabbed his mobile phone from the basket. Lee denied taking any upskirt videos and tried to snatch the device back.
The phone fell to the ground and the boyfriend picked it up and handed it to a security guard. However, the guard returned the phone to Lee who ran off.
The boyfriend ran after Lee and managed to hold on to him, with the help of members of the public. Lee then threw the phone onto the ground, smashing it such that it could not be turned on. Forensic investigations showed the phone had captured an upskirt video of the woman.
Another video clip was also extracted from the phone.
Investigations revealed that Lee had similarly recorded an upskirt video of an unknown woman earlier, as well as two upskirt videos of unknown women on May 9. He had targeted them after walking around the supermarket.
Pleading for leniency, Lee, with his head bowed, said he wished to apologise to the victims and to his family for his impulsive acts.
A first-time offender, he said he regretted what he had done and felt very ashamed. He added that his actions had caused his family to suffer.
"I lost my job, and my children also do not have the chance to go to school because I lost my job," he said through a Korean interpreter.
He could have been jailed for up to one year and fined for insulting modesty.