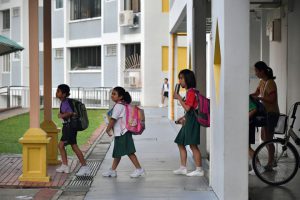 Tomorrow starts the first Wednesday for most students in Singapore to stay at home for home-base learning. Here is the news in full.
From April, students in primary and secondary schools as well as junior colleges and centralised institutes will have one day of home-based learning a week, said the Ministry of Education (MOE) on Friday (Mar 27).
The move comes amid an increase in the number of imported COVID-19 cases in Singapore and enhanced measures to stem the spread of the outbreak.
Schools will stagger dismissal times to "reduce the transient congestion of students" on days when they are not on home-based learning, said MOE.
Education Minister Ong Ye Kung said that the new system will allow Singaporeans to "get used" to idea of home-based learning, and allow the ministry to expand the new system to more days, if neccessary.
"Schools are not closing," Mr Ong told reporters.
"But what we have been working on is to prepare for some introduction of home-based learning.
"As the crisis develops, you will find that you have more arsenal, more measures to respond to as opposed to a sudden drastic change that will get everyone panicked, which is what we always want to avoid," he added.
There will be about four to five hours of home-based learning, and about two hours of screen time.
MOE Kindergartens will not be affected by the arrangement.
"The recent spike in imported cases signals a new phase in our nation's fight against COVID-19", said MOE.
"To support further safe distancing, schools will progressively transit to a blended learning model, starting with one day of home-based learning a week," the ministry said.
So this means, if Singapore Covid-19 case were to worsen, we will eventually be increasing the numbers of home base leaning. Take care all parents.